You are here
I'm shipping up to Boston!
Got invited to the Dropkick Murphys show in Eindhoven earlier this week. It was fun fun fun!
Dropkick Murphys and I met back in 2010, when doing a photoshoot with the guys in Antwerp.
Back then, I got to spend most of my time with their awesome tourmanager, Evan. Man, what a guy! He's truly one of the most appreciative, kind-hearted, unprejudiced people I know. We only meet about twice a year, but when we meet, it's unforgettable. He's one of those people who will never give up on you and who will never ever let you down. Actually, Evan is the reason why I love Dropkick Murphys so much.
My brother was invited to come along to Eindhoven as well. Upon our arrival, we went to collect our passes at the box office and made our way to the production office, where we found our good friends working on the first show of the tour! So great to catch up!
This picture shows me with Eric on the left and Evan on the right. Eric is the band's awesome stage manager. You'd love him right away, great dude. If there was a superlative for cool, it would be Eric.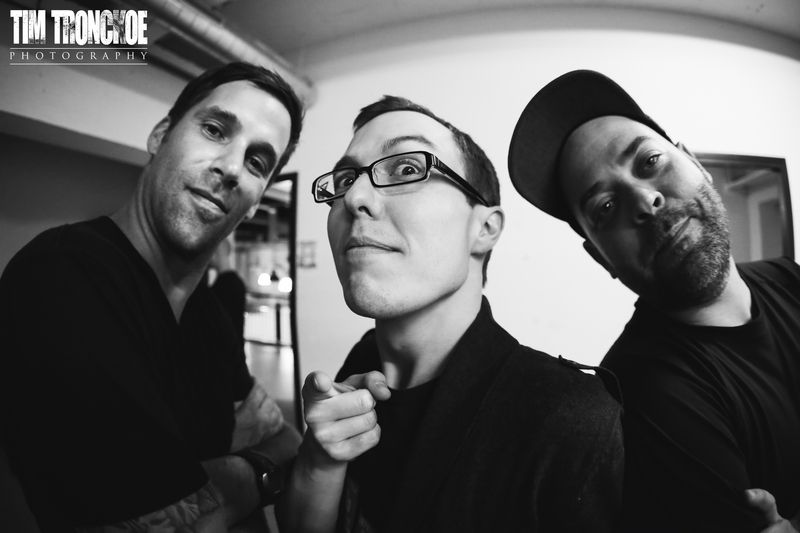 Afterwards I went on to shoot the gig. There weren't that many photographers, lights weren't that good, so in this case, getting to shoot the full concert was really helpful. One of the most spectacular moments of the show always is the end, when the band invites a ton of fans on stage to party along. I love to capture the interaction with the fans. Smiles all around!
I shot this image right before the encores. Evan asked me to shoot a quick picture of the band while waiting to go back on stage and while hearing the crowd begging for more. Honestly, I'm super happy Evan asked me to do this. At first, I was a bit surprised, since I mostly work with studio light (which of course wasn't there), so I had to use the ambient light as well as possible. To my best surprise, this image (which was shot in less than ten seconds) turned out to be one of my personal favourites. I even think it works better than a posed picture of the band. It shows the guys how they really are during a gig and I like that a lot.

Thanks a million, Evan and Eric! Love you guys! See you soon.
Tim
Thursday, February 5, 2015 - 19:38