You are here
Alissa White-Gluz (Arch Enemy) photoshoot December 2014
Last month, I got an email from ARCH ENEMY's record company, asking me to shoot the band's new line-up. Since they had just welcomed renowned guitarist Jeff Loomis to join them as an official member, the band was in great need of new promotional pictures. And that's where I came in.
Angela (the band's manager) got in contact with me to arrange the new photos. Since the band was on tour in Europe, we had to do this during their day off in Eindhoven (The Netherlands). I arranged the location (Dynamo club in the heart of the city) and exactly one week later, the day of shooting had come. I arrived at the venue in the early afternoon, since I wanted everything ready before the band arrived. I knew we were going to have a couple of hours, but still, I think it's incredibly important to be there first to avoid any kind of rush.
To my great surprise, we had the full venue at our disposal. We could even use the dressing rooms, which would be perfect for the band to prepare.
I spent a small hour setting up my gear and just as I was done, the band arrived from the hotel. They were accompanied by the awesome Jens from Century Media Records. I showed them to the dressing rooms, went over some ideas and I believe it was 15:30 when we started shooting on the stage.
This solo shot of Alissa is one of my favourites from this session. I would even say it's one of my favourite shots of 2014. It didn't take too long to get this result. We only needed about three tries before I shot this image.
How did I shoot it?
I used four lights for this photo: one red light facing the curtain behind Alissa, two rim lights coming from the far sides and one key light, coming from the left, above camera.
The main challenge was to get everything right from the very start so we wouldn't miss the image due to a bad camera setting. It all came down to getting that one moment right and I think we nailed it. It really shows the attitude and energy Alissa brings forward during a live performance. It was great to have it staged, for a change.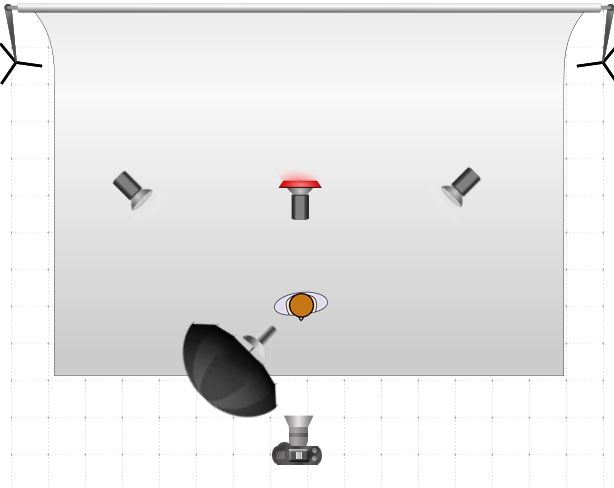 After this setting, we used some other locations in the venue and it was at around 18:00 when we called it a wrap.
I'll upload more images of this photo session soon.
Saturday, January 17, 2015 - 16:02