You are here
The 60 best portraits of 2014
2014 was quite a year. It was a year full of surprises and great collaboration in which I got to expand my experience and photographic knowledge. Here are my 60 personal best portraits I shot in 2014.
Simone Simons (EPICA):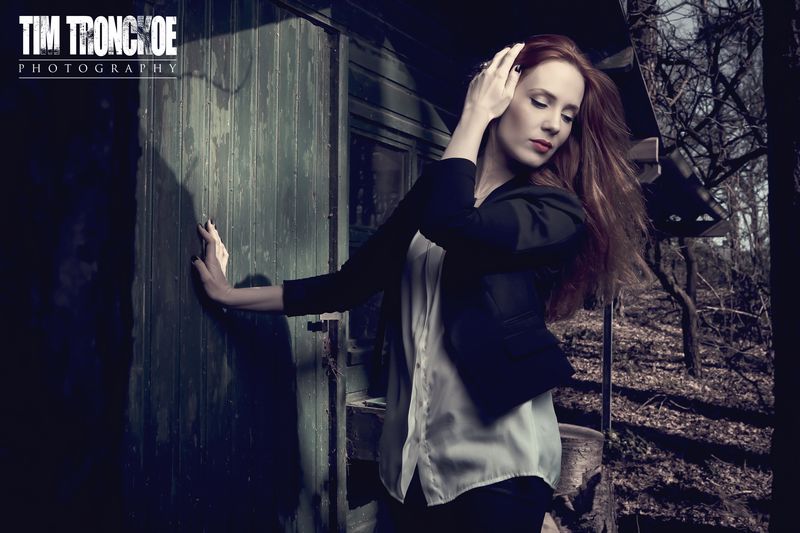 I shot this image when I was at Mark's place in the Netherlands. We were shooting images for charity and Simone and I decided to do some quick individual shots of her as well. The sun was shining beautifully, so I used that to my advantage to soften the shadows using one light with a large softbox.
I love collaborating with Simone. She's a super friendly girl who loves being photographed and she definitely knows how to strike a pose.
PRONG:

The band's manager reached out to me since the band really needed new promo pictures. When the band was back in Belgium, we agreed to do the new photos in the venue, before doors opened. This was a three-light set-up: one main key light and two rim lights.
Alissa White-Gluz (ARCH ENEMY):

When Alissa was doing backing vocals for Kamelot, headlining a festival in Belgium, I noticed the awesome outfit she was wearing by the end of the show. Alissa and I have known each other for a couple of years now and even though it was already after midnight, she agreed on doing some solo photos in the muddy backstage right behind the stage. I used the construction light to my advantage, since it created this awesome light, turning the ugly muddy backstage into a really cool-looking place. And of course, Alissa nailed it!
SAXON: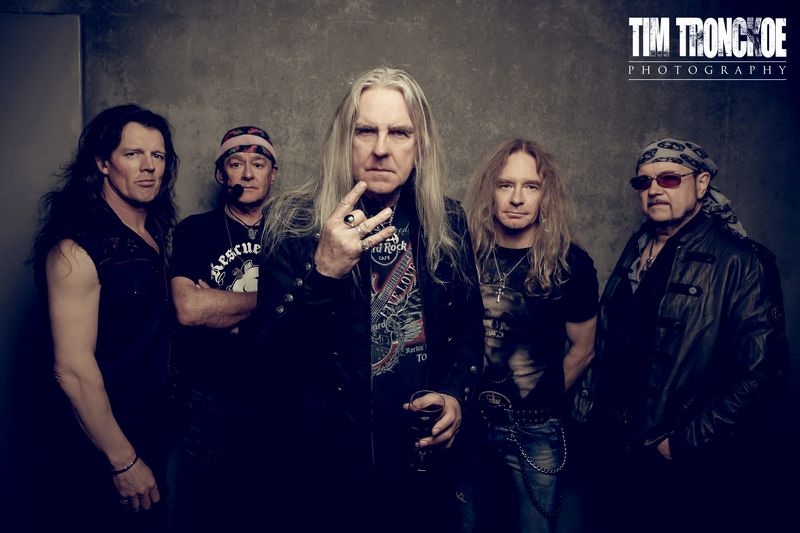 We shot this image right before SAXON went on stage as a headliner at the PPM Fest. I had about one minute to shoot them and actually, that was all I needed. Sometimes a little pressure really helps in getting the best out of the artists you're shooting.
DIABLO BLVD.:

If I had to name one Belgian band that truly gets my full support, it's DIABLO BLVD. These rock stars have got all it takes to make it. During 2014, their music got picked up by Nuclear Blast, Machine Head and Life Of Agony and they got to tour with these bands. Great dudes! In 2014, they had a new album and were in need of new band pictures. And that's where I came in.
Charlotte Wessels (DELAIN) and Joakim Brodén (SABATON):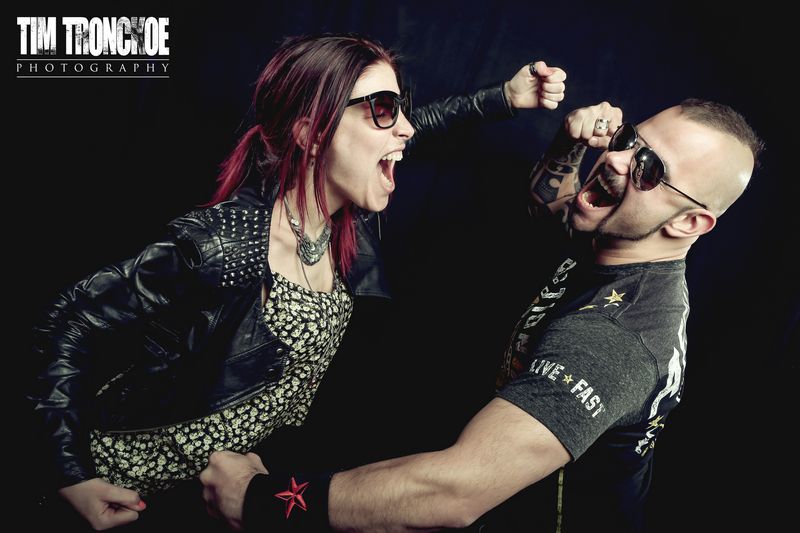 In 2014, DELAIN joined SABATON on the road, so we had both vocalists to do some fighting. There wasn't much left of my studio when they were done. Great friends though!
Kerry King (SLAYER):

At this year's Fortarock, SLAYER were back in town. As always, the band and I had agreed to shoot some new pictures in my backstage studio. I had the full band right before heading out to the stage. However, it is this solo shot of Kerry that's my favourite. I love the action in his pose and facial expression. No matter what people tend to say about SLAYER, they're a great bunch of guys.
Max Cavalera (SOULFLY):

I've shot Max several times now. He's still an awesome guy and so is his family. I shot this image of him a couple of hours before he hit the stage for a pretty wild crowd. Because of the limited space, I only used one light with a large softbox.
DIMMU BORGIR: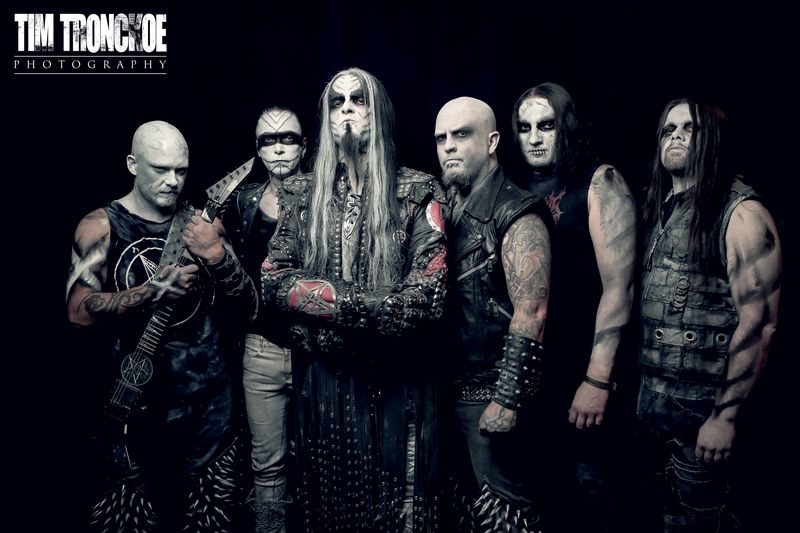 This image was shot right behind the tent stage at Fortarock. I remember how focussed the band was. There was a huge crowd waiting for them and it was literally only two minutes later that the intro music started.
Dani Filth and Lindsay Schoolcraft (Cradle Of Filth):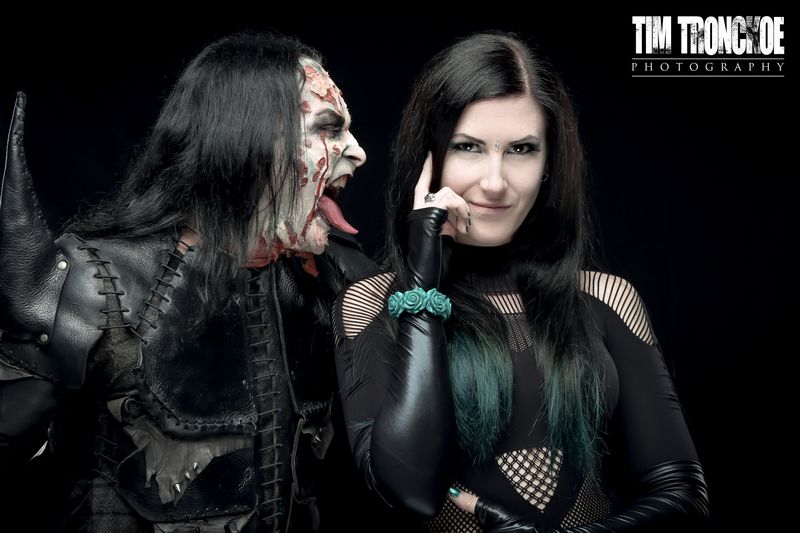 Lindsay has been a good friend of mine for a couple of years now. Earlier that year, it was she who had introduced me to Dani Filth, the leading man behind the band. In August the band hooked me up to shoot new promo pictures.
Dee Snider (Twisted Sister):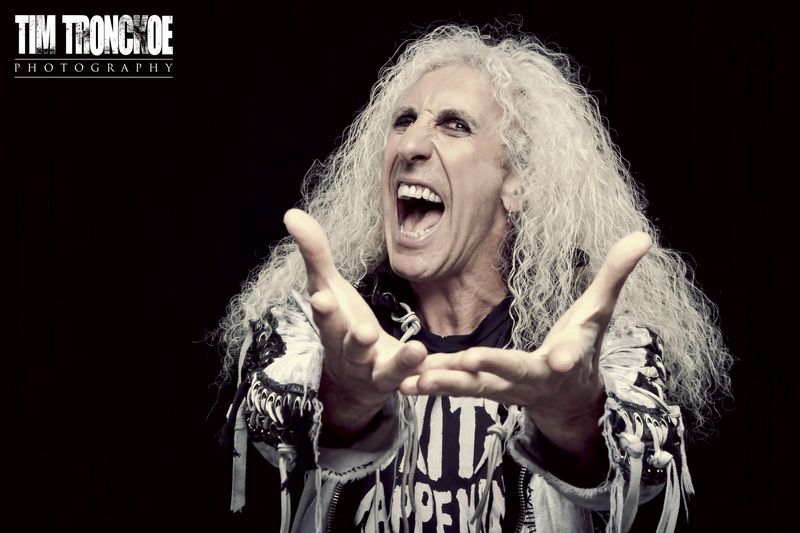 If I'd have to name one photoshoot of 2014 that I had been looking forward to for a full year, it must be this one. Twisted Sister headlined a festival in Belgium and their management reached out to me to shoot the band's new promotional images. I was asked to shoot the band and individual members right before stage time. That wasn't a problem at all, since I had my studio in the backstage area anyway. About 30 minutes before the shoot, the area was sealed off so no one could come in anymore. When the show should've started already, there was still no sign of the band. Suddenly, Danny, the band's awesome manager, shouted out: "Tim, get ready!" The band showed up, we shot for about fifteen minutes and they headed to the stage.
What was so striking was the fact that they really wanted these pictures taken. They didn't care the show should've started already. I felt like I had priority on this day, which was quite an awesome feeling to be honest. I mean, most bands wouldn't give a shit about you. They actually did! Thank you guys! Much appreciated. We'll stay in touch.
Richie Sambora and Orianthi: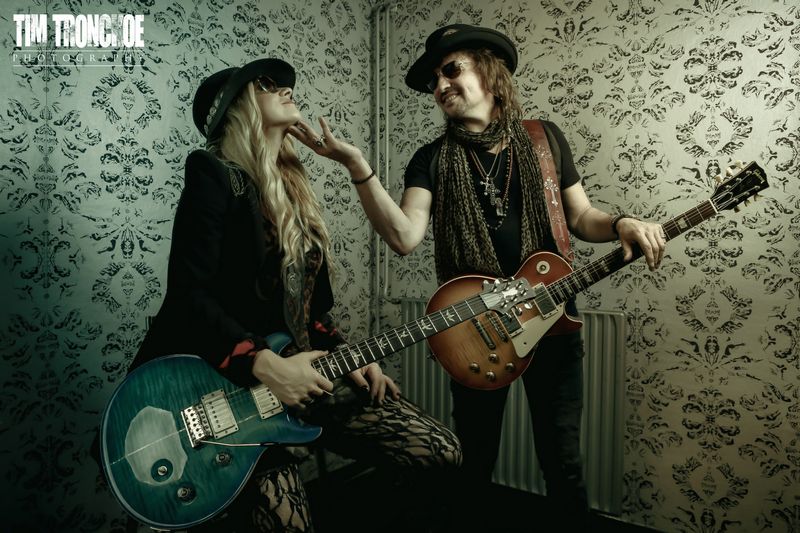 Another unforgettable 2014 photoshoot. For those who don't know these two: Richie Sambora used to be the lead guitarist of Bon Jovi and Orianthi used to be the same for Alice Cooper. They now found each other to make some damn good music. Both artists agreed on having their picture taken by me. If you asked me what shoot was most fun to do, it must have been this one. I had a full dressing room to set up for the shoot, all crew members were really nice and cooperative and also Richie and Ori were super nice. Professional, but nice. I was about to head back to the car with all my gear, when I was handed a backstage pass for the rest of the evening. It goes without saying that I had an amazing time. God, I love my job!
I used two lights for this picture, one fill light with a large softbox behind me and one smaller softbox as a key light.
Deafheaven: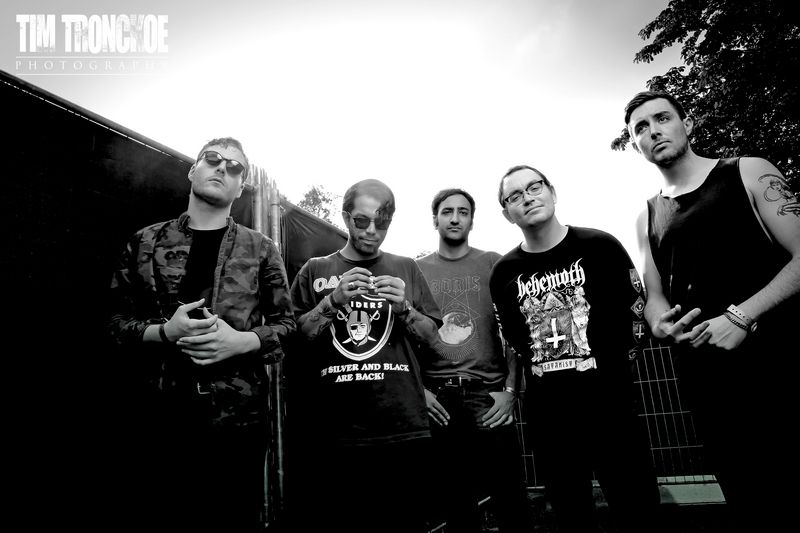 I didn't really know their music before doing this shoot. Really nice guys!
Sandra Laureano (THERION):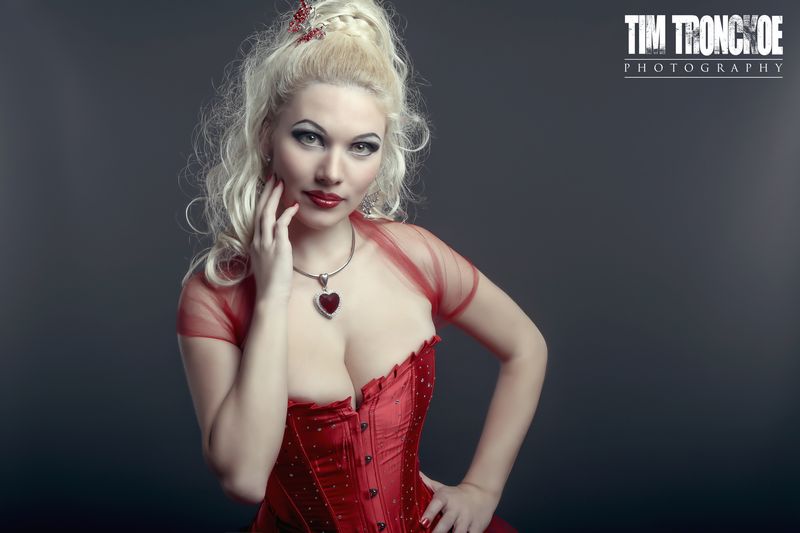 In 2014, Sandra was announced to be the new operatic vocalist of THERION when Lori decided to leave the band. They couldn't have made a better choice. This girl is both extremely talented, stunningly pretty and has a heart that would have the entire North Pole to melt. Only after one meeting and one photoshoot, I knew I had made a new friend.
For this shoot, I used three lights, one key light, camera right, with a very large softbox, and two rim lights, both reflecting on white walls, to make the image as soft as possible.
THE HIVES: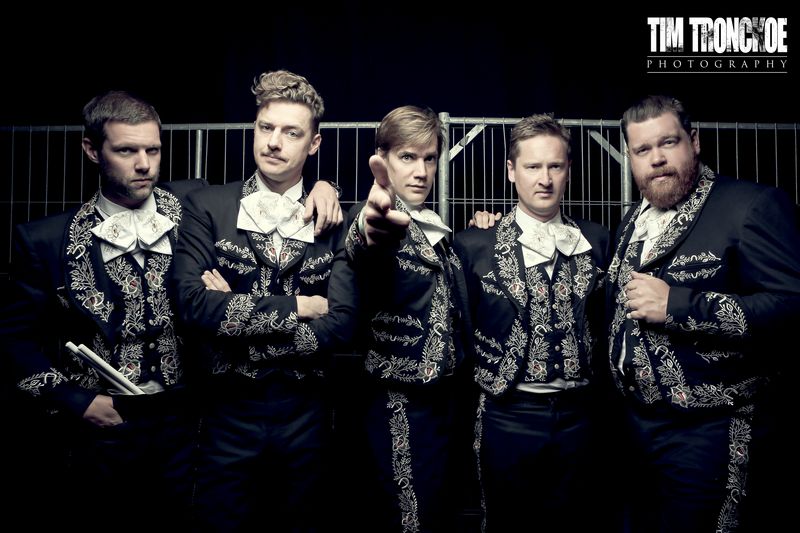 Shot right before stagetime behind the stage at a 20,000 people tent.
I had first met Sharon, Within Temptation's charming front lady, in 2013, when we did our first photoshoot. Now, one year later, the band's management agreed on granting me a couple of minutes to shoot the full band right before leaving for the stage in Belgium, performing right after Motörhead. I had the opportunity to set up my studio in the band's dressing room, which made things much easier for two reasons: 1) it was raining cats and dogs outside. 2) it was an ideal opportunity to get to know the rest of the band. Awesome people!
CRUCIFIED BARBARA:

Shot these lovely Swedish girls again earlier this year. One key light.
THE TREATMENT: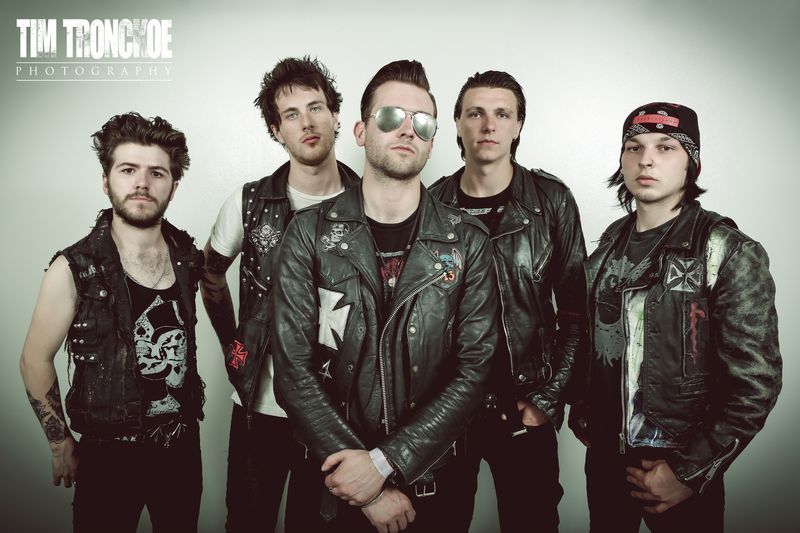 These guys are the future of rock and metal! Having toured with Alice Cooper and Scorpions, they are totally ready for the next step!
When they performed at Graspop, the band's management asked me to shoot their new promotional pictures. Great down-to-earth guys!
I had a couple of minutes to shoot these legends featuring Phil Anselmo (ex-Pantera) when they came off stage in Belgium. I love the images because they show how sweaty a show can get, which suits this band perfeclty. Great talking to Phil as well. Even when he's high as a kite, he's big fun to talk to.
LIFE OF AGONY: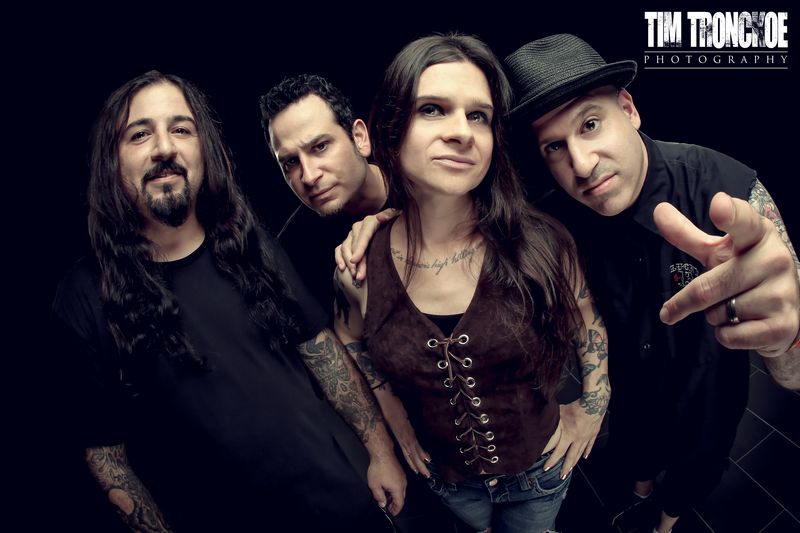 In 2014, Life Of Agony came together after a long silence. During these years, Keith decided to continue his life as Mina. They had their first show with the 'new' line-up in Belgium, where I got the chance to shoot the band's new photos. Great guys and Mina is a real sweetheart who I can now call a friend.
Dani Filth (CRALDE OF FILTH) and Nergal (BEHEMOTH):

Shot backstage in the Netherlands, when both bands were touring together. The picture doesn't really show, but both gentlemen are extremely nice, trust me.
Cristina Scabbia (LACUNA COIL):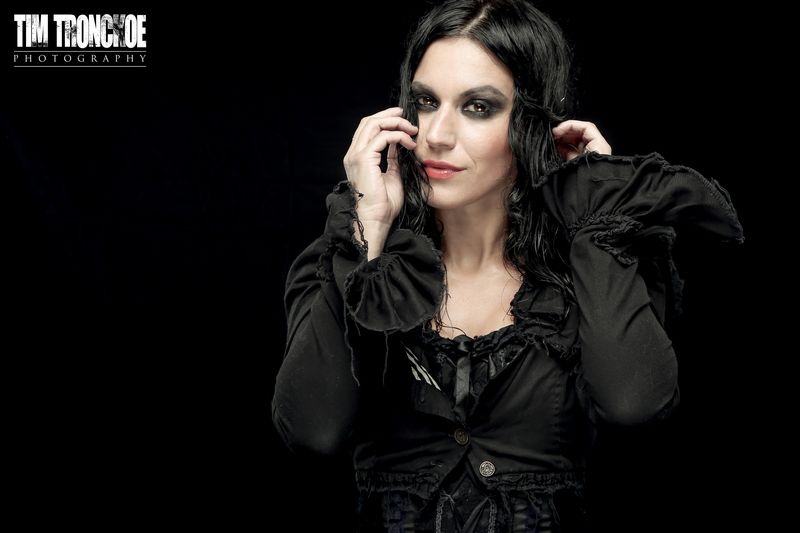 My friend Cristina always knows how to strike a pose.
In 2014, I had the honour to shoot ALTER BRIDGE twice. The first time was the funniest one, backstage at Fortarock. I had no idea Myles would still remember me from our previous meeting. However, he did, which made it an extra pleasure to work together.
Later that month, he found me again and we shot some more pictures, right before stagetime, at Graspop. Amazingly talented musicians and kind-hearted gents!
Maxi Nil (JADED STAR):

In March, I was invited to travel to Athens to shoot new promotional pictures for Maxi's new band: JADED STAR. We spent four days together: the first two shooting the pictures and the last two as a badass tourist in the city of Athens, with Maxi as an outstanding guide!
Jill Janus (HUNTRESS):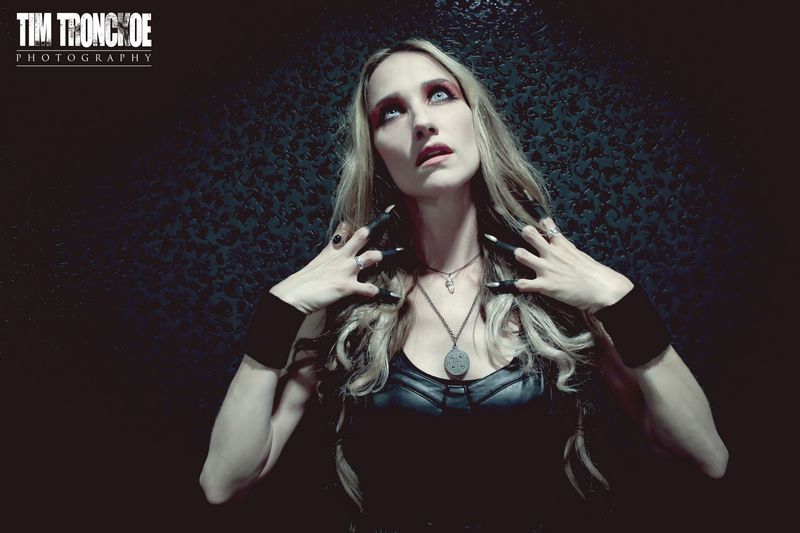 When shooting Soundgarden's concert in the Netherlands, the awesome Jill Janus and her boys were playing the venue nextdoor, so I thought it was time to shoot her preparing for the show. This was one of the rare occasions I actually didn't use any flash at all. The ambient light, coming from the ceiling, was more than enough to shoot this image.
Andrea and Cristina (LACUNA COIL):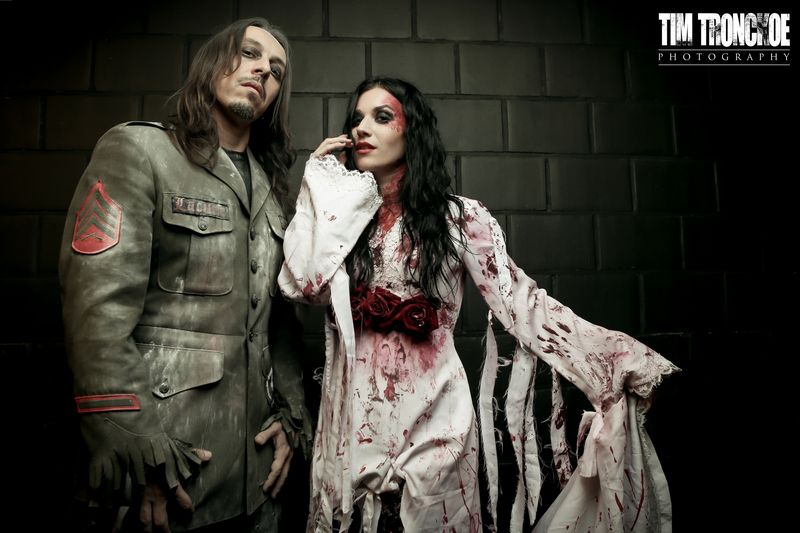 My great friends Andrea and Cristina of LACUNA COIL always know how to appreciate my work. They always kindly strike a pose. It's just a mere coincidence that I have my studio lights with me. Or is it?
ROB ZOMBIE: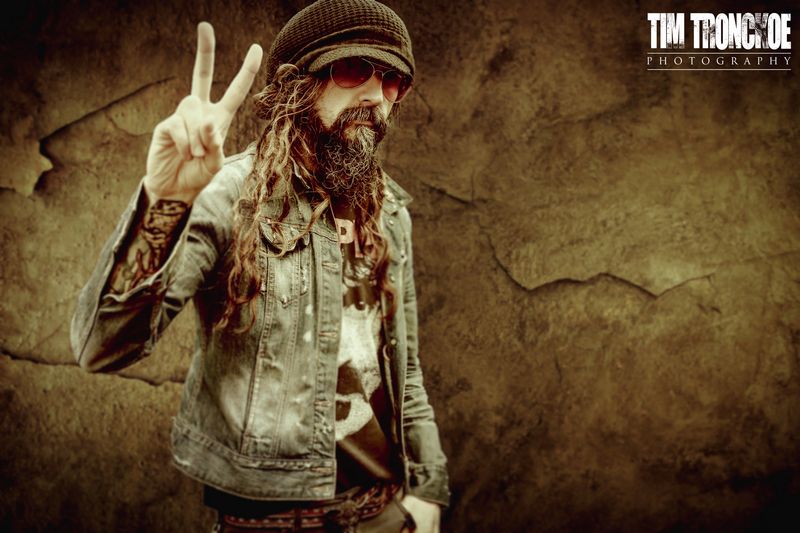 I got to shoot ROB ZOMBIE backstage at Graspop. He's one of those artists that leave an impression.
HELLYEAH:

Great times with these Americans. I shot this picture a bit before heading for the stage in Belgium. Vinnie Paul (ex-drummer of Pantera) and his fellows are real down-to-earth people who're a realy pleasure to work with.
I used four lights for this shoot: one key light above camera, one fill light below camera and two rim lights from the sides, behind the band.
Mina Caputo (LIFE OF AGONY):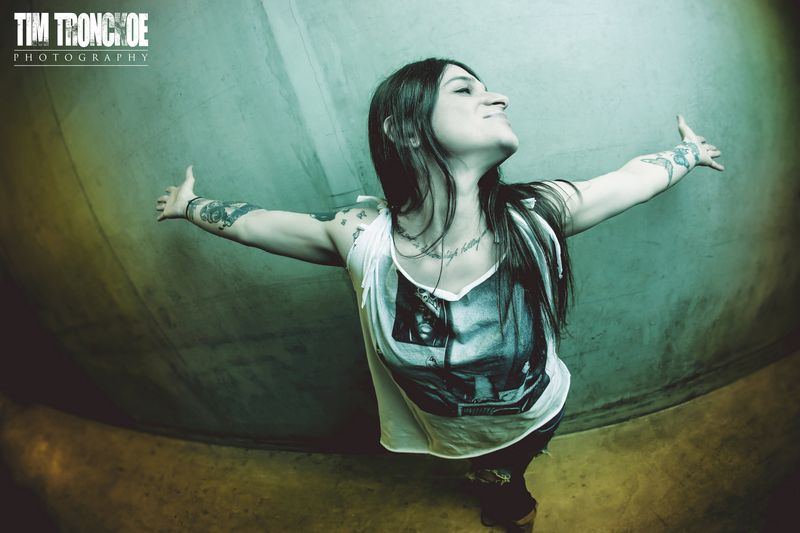 A bit earlier this month, I was invited to Mina's birthday show and we agreed to shoot some new pictures in the backstage of the venue. This image was shot with a 15mm lens in the loading dock. Mina loves this kind of images and she's not too shy to show it.
Sharon Boucquez: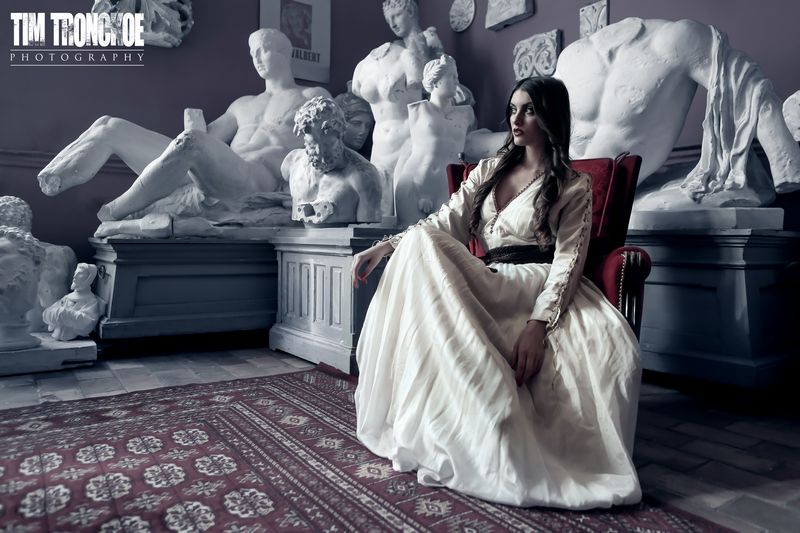 Sharon is a model from Belgium. I met her in August, when she was acting in a music video which I was shooting the BTS footage for. We found this awesome location on the scene and we decided to shoot some photos. I used no studio light, only the window light. I think this image works 100%: the white dress of the beautiful Sharon amongst the marble sculptures. These were my first steps into fashion/conceptual photography. It would certainly not be my last.
Joakim Brodén (SABATON) and Simone Simons (EPICA):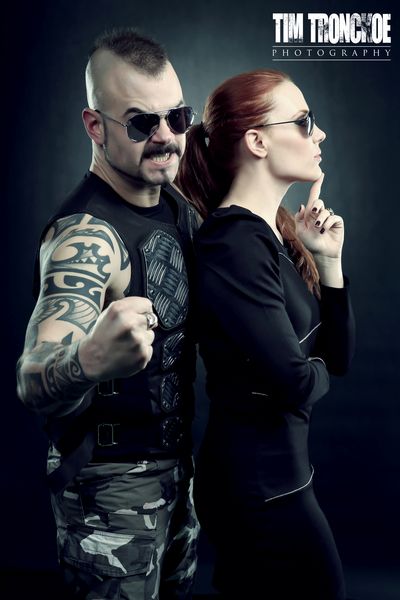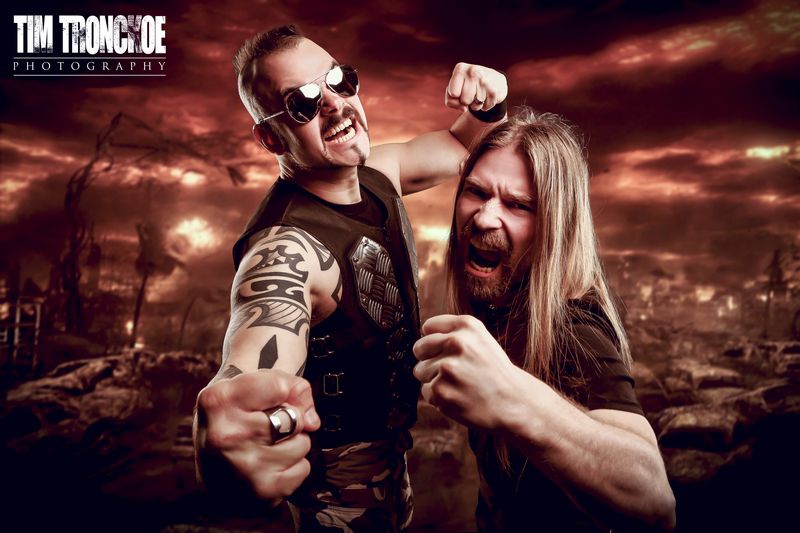 In March, I was commissioned to head out to Germany, to the headquarters of Nuclear Blast Records, for a cover shoot of Sabaton and Epica. Joakim and Pär of SABATON were there for promo and Simone only lives an hour from the place. Simone had brought her husband Oliver and her son Vincent to the shoot, which gave it all an extra dimension. We spent about two hours shooting and mostly had a great time. The people at Nuclear Blast were all extremely nice and cooperative. They made us all feel like home.
For this shoot, I used a four-light set-up and spent about an hour testing. Why? Cover shoots are just too damn important.
MOTIONLESS IN WHITE: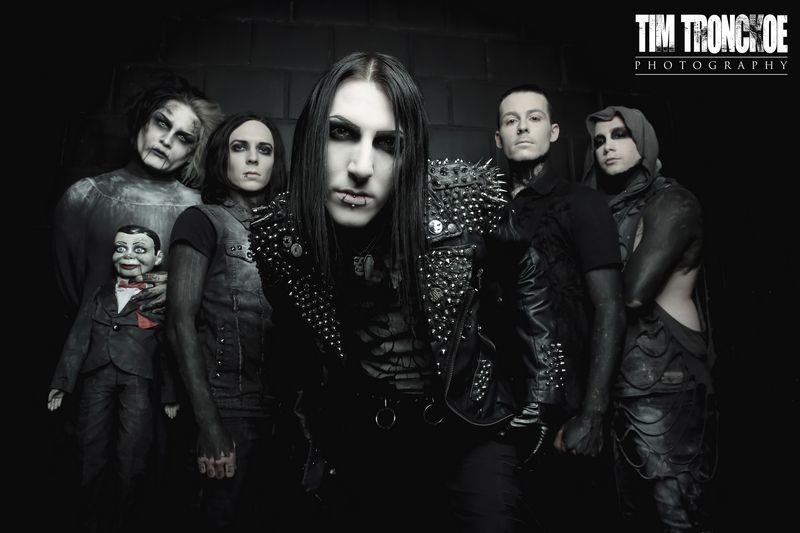 When I was doing a shoot with Lacuna Coil, Chris (who's the vocalist in MOTIONLESS IN WHITE) and I agreed to take some photos as well. Since the band's amazing make-up took over an hour to finish, we decided to do it a bit before showtime, as soon as everyone was ready. Showing him the results right after the shoot, he acknowledged these images to be the best ones they had ever had. Sometimes I do like compliments, certainly when you realise the shoot only lasted for about fifteen minutes and I used a minimum of equipment.
ARCH ENEMY: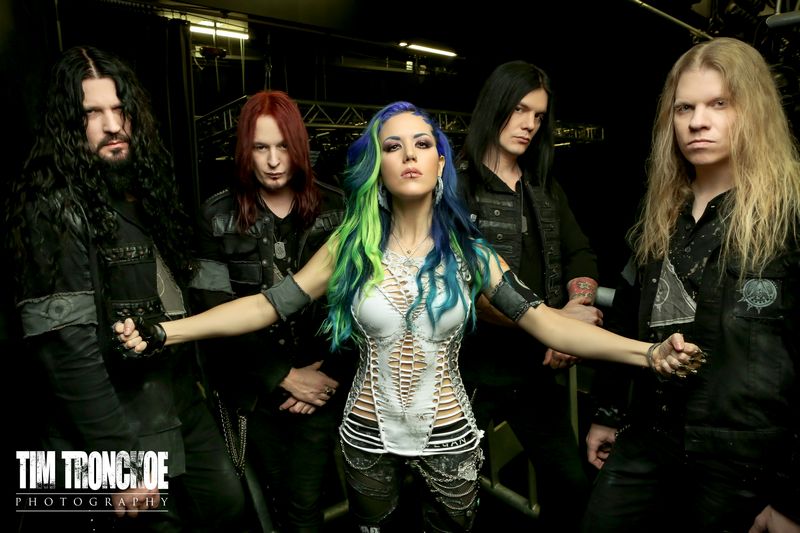 A couple of months ago, ARCH ENEMY announced that they had a new guitar player: Jeff Loomis. He's one of my personal guitar heroes, so I was beyond thrilled when the band's record company and management asked me to shoot the new promo shots. They needed the pictures very urgently, so we planned to do the shoot on their day off in the Netherlands, just one week after they had reached out to me. I arranged a location and make-up and that was that. We spent the afternoon shooting and had some lovely dinner afterwards. I find it amazing to do shoots like these, because you can really get to know the artist in front of you. You get to talk not only about the music, but only about their personal lives and experiences. Loved every second of this shoot! The band was extremely pleased with the new images as well.
KAMELOT: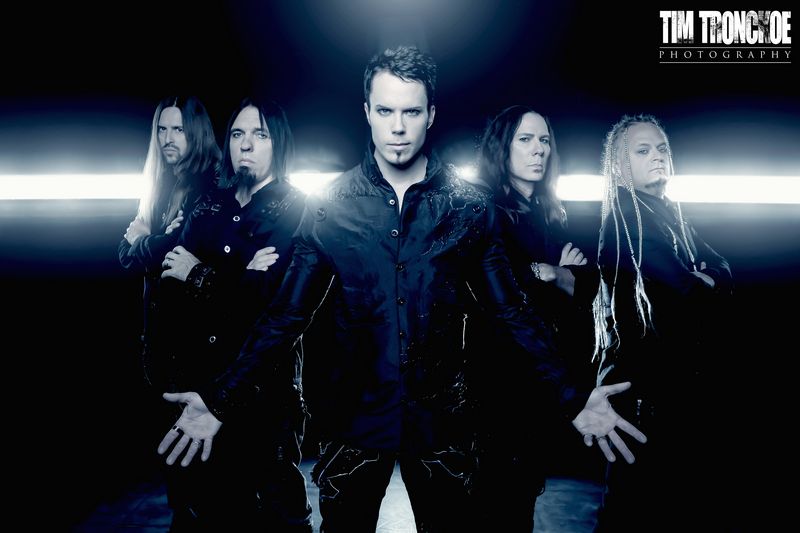 In August, I was asked to shoot the new band photos for KAMELOT. I hired an amazing make-up artist and together we set off for a long drive to Amsterdam where the band was throwing a one-off concert earlier that day. We set up inside the venue and spent about two hours shooting. Great guys, to say the least! I got to join them to Belgium the day after, where they performed at a festival.
SKILLET:

Shot this image of SKILLET at Fortarock, while they were still rather unknown to the European crowd. It was during this festival run that the band would finally get noticed and eventually break through on European soil.
In 2013, EPICA's manager told me he was going to work with me for the new promotional images of the band. A couple of months later, I had the official GO and I could start preparing for the shoot. In my mind, I was convinced this had to become the best shoot I'd ever done. I started drawing, looking for inspiration and in the end, I came up with a couple of different set-ups and concepts for the shoot: one would involve lots of pyro (since that's what the band's knows for after all), the other would involve a solo shot of Simone lying on scores and another shot involved Simone in a more classy, Hollywood stylish picture. What struck me the most was the fact that the images turned out exactly how I had pictured them in my mind.
The fire shot and the score shot were the two most challenging shots, because of different reasons. For the fire shot, I had to figure out my camera settings way in advance, testing with fire at home, so we wouldn't waste any of the flames. When it came down to the actual shoot, the band was only about 4ft away from the pyro and I had to time everything extremely accurately to get the shot. Because of all the preparation, everything worked out splendidly.
The scores shoot was more challenging in terms of light and camera set-up. Well, gathering all these scores was quite tricky as well, since I wanted to combine really old 18th-century scores with scores from the band's new album. Of course, the colour contrast would've too big, so we had the new scores drenched into cold coffee to give them this old look. It worked out perfectly. So how did we shoot this? I had one key light, following the direction of Simone's face (heald by my first assistant) and one fill light to fill up the shadows. I had attached the camera to a boom arm, pending over Simone. I triggered the camera with a remote control and I had connected the camera to my tablet computer, so I could instantly check the results.
We spent about seven hours shooting and afterwards, we went for some Mexican dinner. I think it was this collaboration that marked the beginning of my photographic journey with EPICA. And there's more to come! A big thank you to everyone involved!
ANIDAY:

I shot Robby Valentine's band in an amazing art gallery in the Netherlands. A you can probably see, I had a light with a blue gel in the other room, shining through the window. I had another light light the room and a third light to light their faces.
DOGGY STYLE:

During this shoot, we went doggy style. For a charity event, these four Belgian vocalists gathered in Antwerp where I would shoot them with four super cute chihuahuas. Great experience, since I'm not quite a dog person myself.
MACHINE HEAD: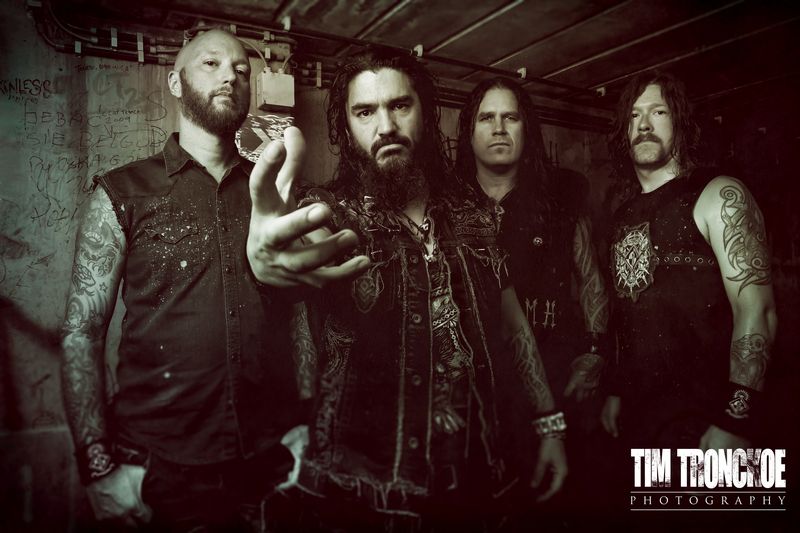 I had just set up my studio at a festival when I got a phone call asking if I could shoot MACHINE HEAD in Antwerp in three hours. Fortunately the festival only started the next day, so all I had to do was tear down one of my lights and get my ass to Antwerp, which was a two-hour drive from where the festival was.
In the end, I made it on time, set up my gear and just before showtime I had five minutes with these lovely Americans. After this, I was also given a photopass to shoot the band's show. Before I knew it, I was back in my car, heading back towards the festivals. Life of a rock photographer ... always in a rush. That's the way aha aha, I like it!
THE DEFILED:

THE DEFILED have been called 'the future of British metal' by Kerrang Magazine. Reason enough for Rock Tribune to ask me to shoot these gentlemen when they were back in Belgium.
Johannes Eckerström (AVATAR):

Another one-light photoshoot, just before AVATAR's headline show in Belgium.
TRIPTYKON: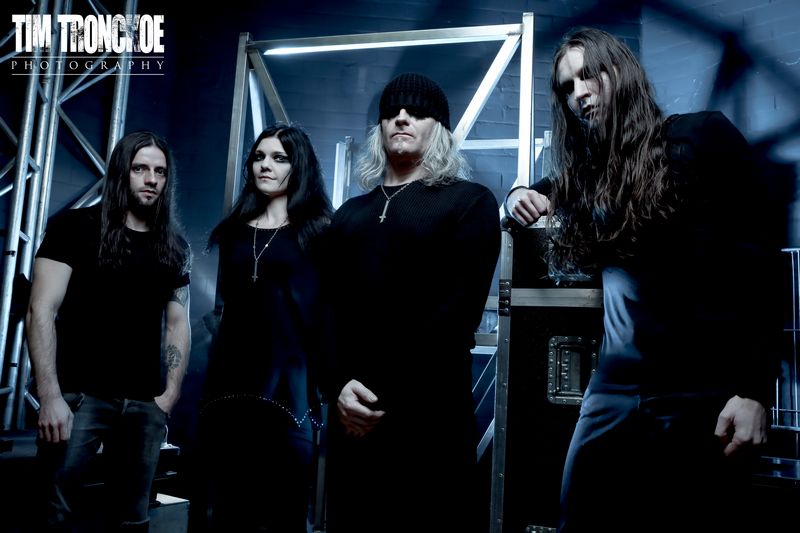 This was the last photoshoot I did in 2014. I shot this image behind the stage in Antwerp, in the loading dock. It involved a two-light set-up: one in the back with a blue gel and one key light, in front of the band, above camera.
GHOST: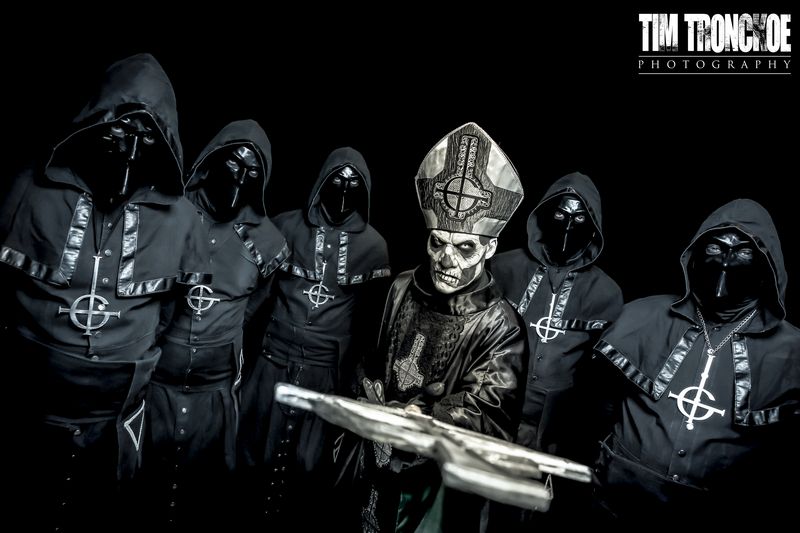 I was really surprised to find out Papa Emeritus II still knew who I was, from our previous photo session. This made it a lot easier to connect and to get them to do something. Papa did exactly what I had in mind, which made it another two-minute success.
GUS G: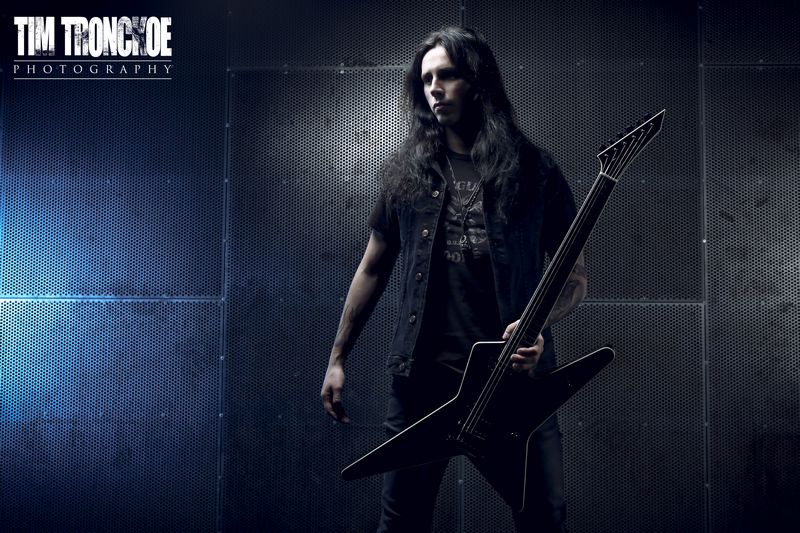 Gus is the current guitar player for Ozzy. Earlier this year, he toured Europe and I was asked to shoot some portraits of him.
For this shoot, I used three lights: one to give some colour to the background (off camera, camera left), one fill light just to fill the shadows a tiny little bit (camera right) and one key light, camera left, to illuminate the side of Gus.
He proved to be a great and appreciative artist. This was one of the rare photoshoots in which I felt like I had the time in the world and I could ask him anything. Great guy!
DEATHSTARS: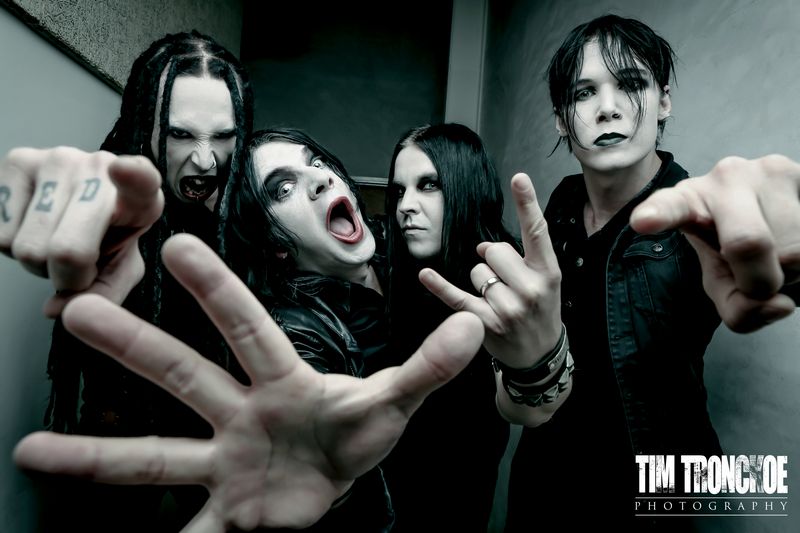 This was one fun but difficult shoot. The guys in Deathstars were unbelievably cool, but the conditions were a bit more difficult. I had planned to shoot in a corridor behind the stage, but it seemed to be an emergency exit, so it had to stay complete empty. I decided to start making photos near the dressing room. The pictures looked great, but not really like what I had in mind, so we headed to the emergency exit after all and did some quick five-minute photos. In the end, it was totally worth the trouble, because these images turned out the best.
Breaking the law, breaking the law!
ULI JON ROTH: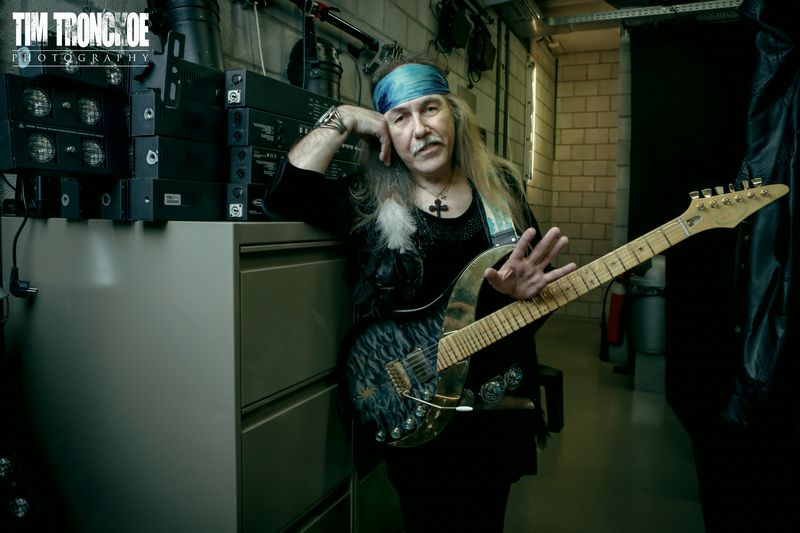 Here's another one-light photoshoot, shot in the backstage area of a Belgian venue. Uli was really cool to work with. He was in for a joke and really knew how to work the camera. When browing through the images we had just done, he called me a Rembrandt of photography, one of the biggest compliments I could get.
CHANNEL ZERO: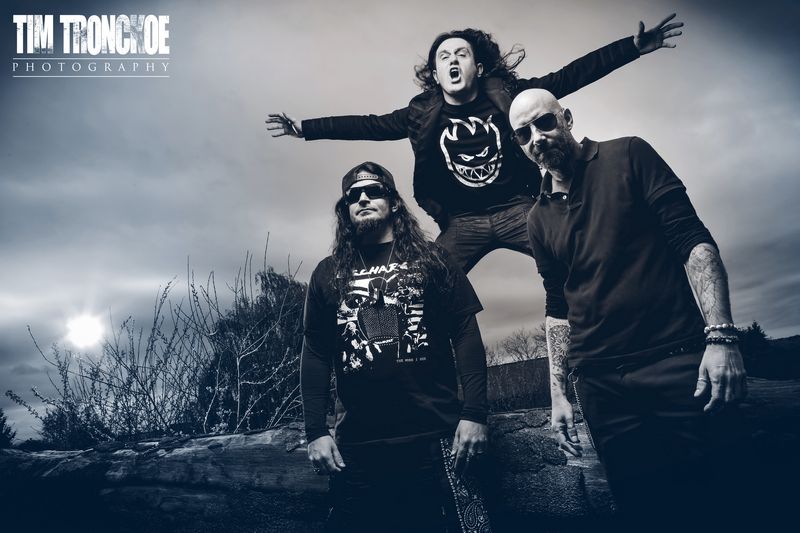 After Phil's passing, the band needed new promo pictures of the three remaining band members. I don't know why the band never used this picture, because I think it's awesome.
I shot this outside the recording studio, one rim light and one diffused key light.
One of my favourite photoshoots is definitely the one I did with STEEL PANTHER for the cover of Rock Tribune Magazine. These guys are the real deal! Hilarious as they are on stage, the funnier they are during moments like these. Man, these dudes know how to work the camera as well as they know how to treat a lady! Smells like sushi!
For this shoot, I used two lights, one in the back with a yellow gel, illuminating the emergency door and one in the front, high above camera as a main light. Band, management and editor loved the shots, so job well done.
Niclas Engelin (IN FLAMES):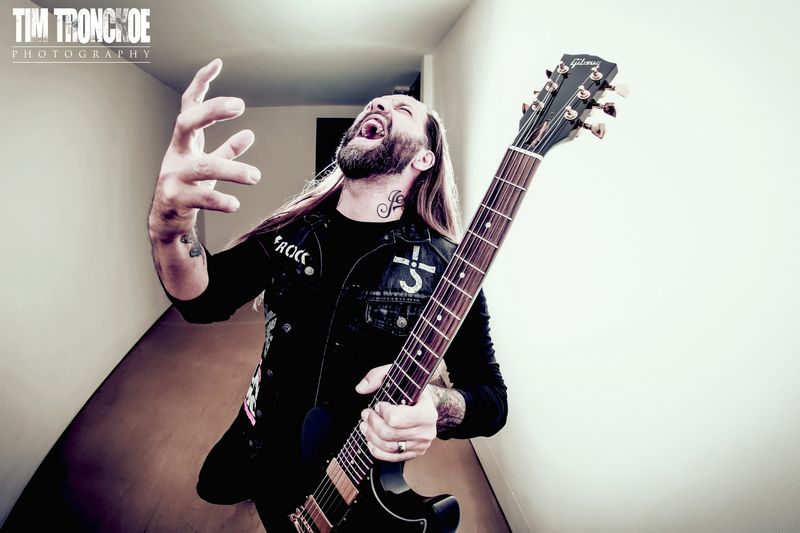 I've known Niclas for a couple of years now, but we haven't actually really spoken in real life. Finally, when the band was back in tour, we got to meet up. Niclas was planning on auctioning his stage jacket for a good cause, but he was in need for some pictures. That's when I came in! We used the occasion to shoot Niclas in his stage jacket and did some power poses, just for fun. In the end, these turned out the best! Sometimes, what you have in mind is just not good enough compared to the luck you sometimes have.
RISE AGAINST: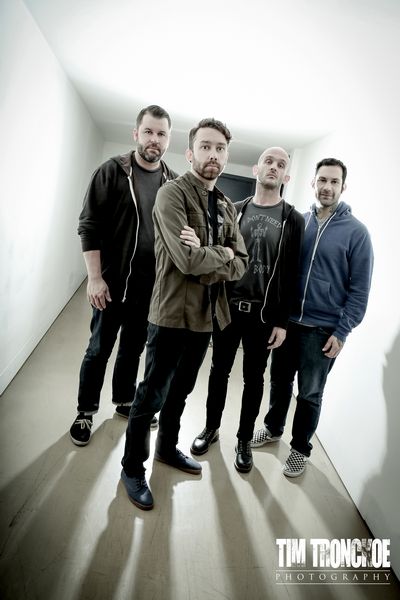 A couple of months ago, I was asked to shoot RISE AGAINST for Rock Tribune Magazine. I originally had 15 minutes with the band, but it turned out I got more than I had bargained for. I got all the time I wanted and some All Area Passes as well. Thanks to the band and their lovely crew, I had an amazing time. Did I mention I love my job?
CORROSION OF CONFORMITY: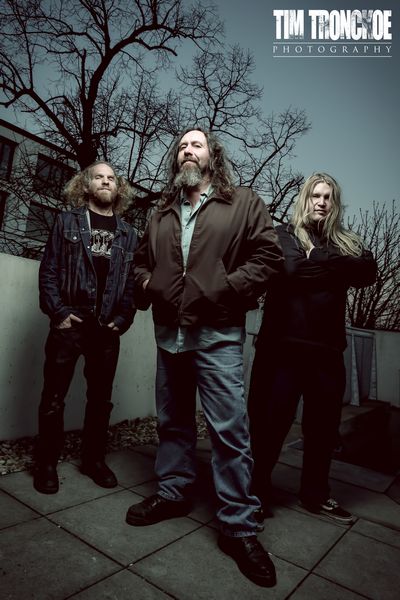 Shot this image on top of the venue's roof. It wasn't that cold actually. I just loved the tree in the background against the dark blue sky. We had a tough time getting my softbox not to break under the wind. However, we managed.
WILLIAM CONTROL: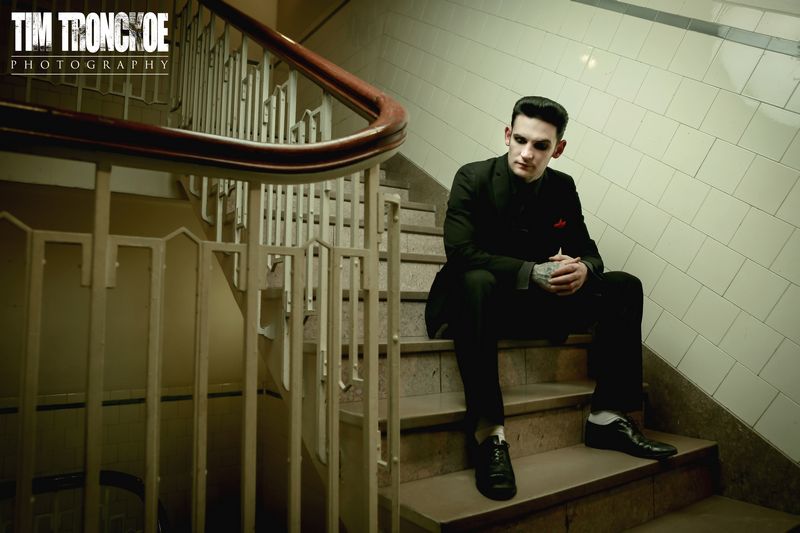 William Control is the former vocalist of AIDEN. He's doing things his own way now. A couple of weeks ago, he was in Antwerp in an old venue with a beautiful staircase. This photoshoot had been arranged with him personally about a week earlier. Despite we hadn't got any details yet, not even on the actual day, I decided to take my chances and head out to the venue. Apparently, William was still asleep, but as soon as he woke up, he came to me to confirm everything. About 30 minutes later, we were shooting the image you see above. I only used one light for this photo. It's a bit of a spooky picture, don't you think?
THE TEMPERANCE MOVEMENT: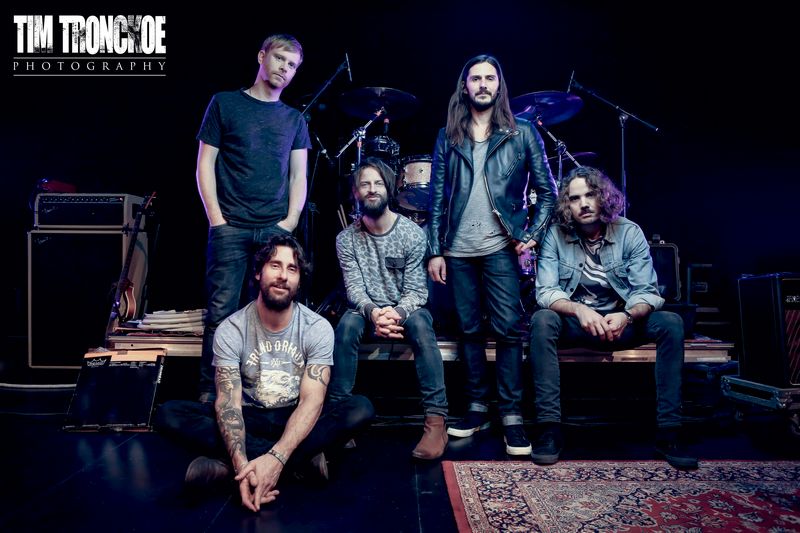 Having opened for no one less but the Rolling Stones, these rockers don't need any introduction I think. On a lazy Sunday, I headed off to the other side of the country because I had a meeting with these lovely guys. We shot for about twenty minutes in different location in the venue. Awesome gentlemen with a good attitude!
So, that's that. 2014 truly was an amazing year. I got so many awesome opportunities, I had the cover of the new Within Temptation DVD, I collaborated with some of my favourite artists, I stepped into a partnership with Alcatraz Concerts, I launched my first personal projects and there's still so much coming up. What made this year so spectacular? Most of all the people! Thank you so much and see you in 2015!
Rock on!
Tim
Tuesday, December 30, 2014 - 10:16